gm creators!
Today is day 7️⃣ of 30 of my writing challenge.
---
tl;dr of today's post
Key Follows - I provide a list of must follows to stay updated on all things crypto regulation.

Digital Freedom Alliance - Advocacy group to raise $100m for a pro-crypto campaign.

Coinbase Global Advisory Council - top advisors helping the Coinbase exec team navigate murky regulatory waters.

Lack of Clarity - Are digital assets securities or commodities?

Proposed House Draft Bill on June 2nd by senior republicans.
---
Coffee Thoughts ☕
This afternoon, my twitter timeline has been full of NYC skyline pictures. The Canada fires got to the city and everyone is going crazy. Apparently, the NYC AQI is the second worst in the world. Here was my favorite meme 😂
This week gets crazier and crazier. It's only Wednesday and here's everything that's happened already:
Anyways, on to today's post! Yesterday, I published part 1 of the history of crypto regulation in America (2013-2017). Today, I'll cover the current major events happening in crypto policy right now. Full transparency, I am still very new to anything regulation related so I refrained from giving too much personal opinion this post and am more so using today's writing exercise to collect and understand key resources.
If you're new to The Bigger Picture (TBP), welcome! I write about web3 products & strategy. Subscribe below so you don't miss any future TBP posts 🥂
---
Key Follows
I'm sure I missed a ton of other really important folks discussing all things crypto policy, but these are the few that I have consistently pop up in my feed and provide clarity on any on-going situation.
---
Digital Freedom Alliance
Ryan Selkis launched this advocacy group in order to raise over $100 million for a pro-crypto campaign. He is very vocal that the crypto sector is far behind in the lobbying efforts and claims we need to cover a "2-3x gap" this summer.
We are fighting with one hand tied behind our back as long as sentiment is this negative. There's a gap in the market right now around running an actual campaign, and a pro-crypto messaging campaign in particular, that is going to change the sentiment in D.C. It' been a brutal six months.
The Digital Freedom Alliance is registered as a 501(c)(4) meaning
They can engage in lobbying as long as the organization's primary activity is the promotion of social welfare

Not required to disclose donors publicly

Can be involved in political activity as long as the activities are not the primary focus

I went ahead and signed up for any updates - probably the best substack to stay updated on all things regulation for the space.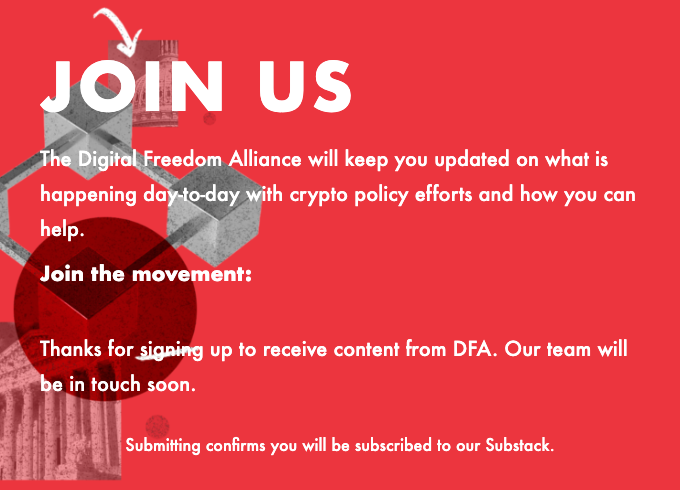 ---
Coinbase Global Advisory Council
About a month ago, Coinbase launched the "Coinbase Global Advisory Council". The goal is to bring the top dogs and provide insights and strategy for the Coinbase leadership team. It's clear that Coinbase is leading the expensive war against the American government and they're building an army for the coming months ahead. The plan is to slowly expand to international leaders as well.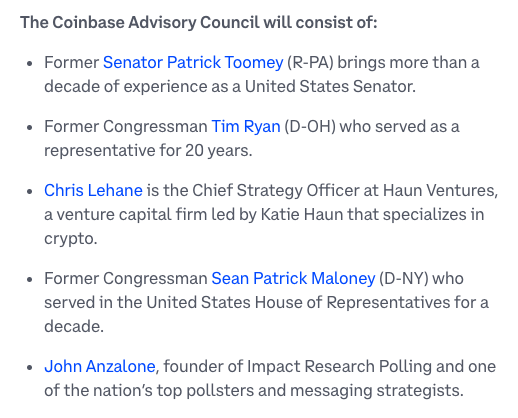 ---
Lack of Clarity
Pretty straightforward point here on what I've been mentioning the last two days - there is no clarity on whether digital assets such as ethereum are a security or commodity. I think this video of Rep. Patrick McHenry questioning Gary Gensler sums it up.
Furthermore, the day after this congressional hearing in April, Coinbase sued the SEC for a lack of response from their side. In July 2022, Coinbase filed a rulemaking petition that asks the SEC to provide guidance for the crypto industry. It's been almost a year and the SEC still has not given a response back.
The Administrative Procedure Act ("the APA") requires the SEC to respond to Coinbase's rulemaking petition "within a reasonable time." If the SEC says no to our rulemaking petition, which it has the right to do, then Coinbase would be allowed to challenge that decision in court and explain in that formal setting why rulemaking is required. So it's important for the SEC and any other agency petitioned for rulemaking to respond to the petition once the agency has made up its mind, especially if the answer is no – otherwise the public can never exercise its right to ask a court if the agency's decision was proper.
The reason Coinbase has been actively looking for clarity these past few years from the SEC is because they don't know whether to register themselves as an exchange, broker, or clearing agent.
Just today, the court finally gave the SEC a week to answer the following questions:
Did the SEC decide to deny Coinbase's petition for regulatory guidance?

If the sec hasn't yet decided to deny Coinbase's petition, how much more time does it need?

Why this Court should not keep jurisdiction, and order periodic reports and/or set a deadline to rule on Coinbase's petition if the SEC hasn't decided?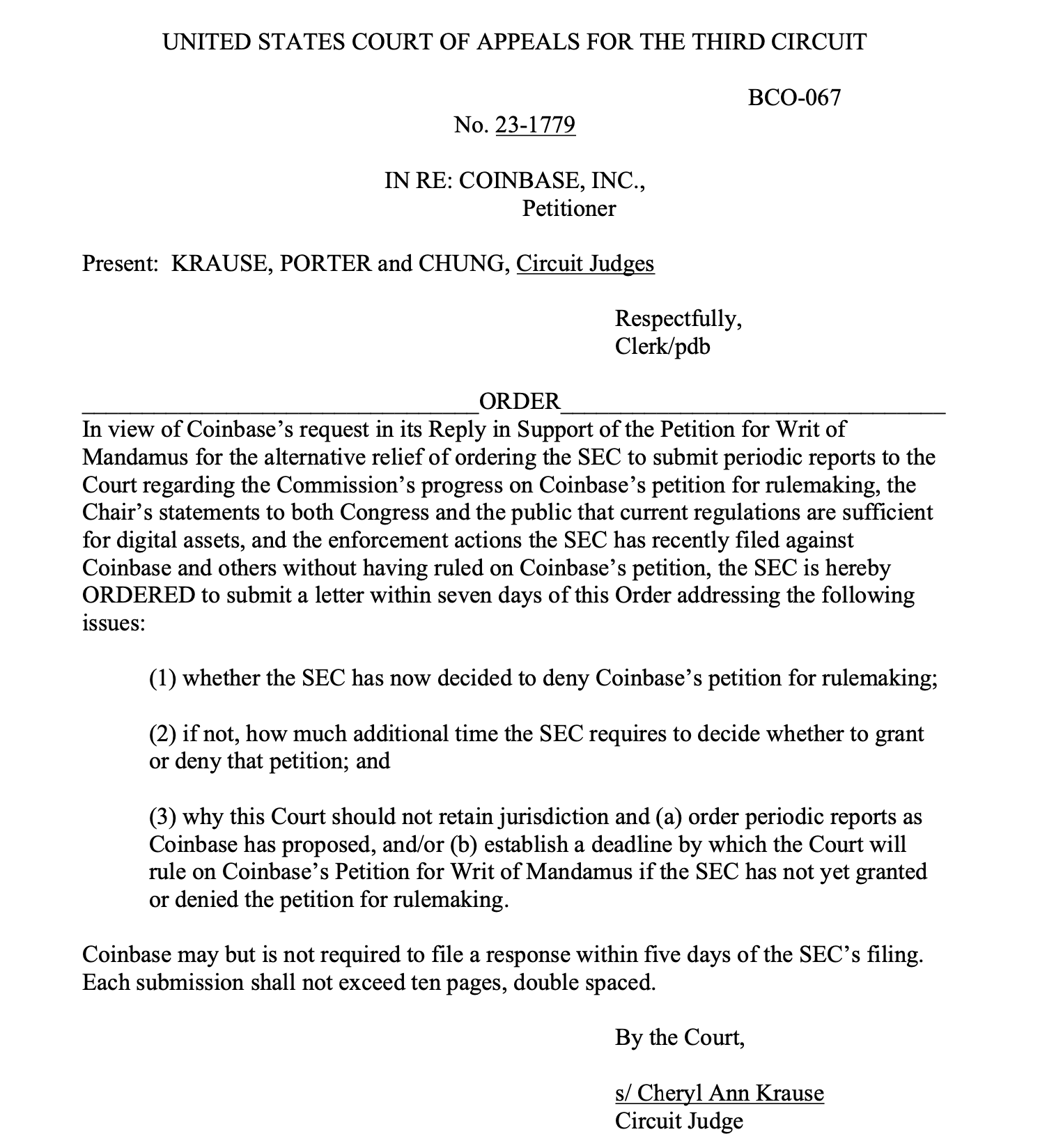 ---
June 2nd Draft House Bill
Late last week, senior house republicans Patrick McHenry (NC) and Glenn Thompson (PA) proposed a draft bill aiming to provide clearer guidelines and regulations for digital assets. The aim is to provide clear regulations while also encouraging a safer environment for innovation in the crypto space.
A few things to note about the bill:
It aims to clearly define when a project is sufficiently decentralized so its token no longer qualify as investment contracts. This means, that when a token hits the "decentralized" benchmark, there would be a transition of that token being treated as a security to a commodity. If the decentralized standards are breached, then the SEC can remove the decentralization classification.

The bill would stop the SEC from preventing certain trading platform (alternative trading systems) from listing cryptocurrencies that are considered securities. And it would also require the SEC to change its rules to allow companies that handle securities transactions to hold and manage digital assets.
---
It is essential that Congress figures this out asap. If not, there will be a mass exodus of crypto business off-shore to countries with clear and accepting regulation.
The crypto space is not asking for special treatment - rather it's simply asking for any consideration at all. Yes, crypto most definitely is still in its formative years and has tons of bad actors and screw-ups, but that should not discount it from being taken seriously as a technology that has the potential to change billions of lives.
Subscribe to The Bigger Picture by Yash Bora and never miss a post.