gm creators!
I hope all of you had a productive, stress-free week 😎
In case you missed it, make sure to check out my last post which was a deepdive on a product I think will be game changer for creators & community builders, Bello. Here's the key takeaway:
I believe that Bello, leveraging the open & transparent nature of blockchain data, will propel us from an era of isolated, platform-centric social networks to an integrated, creator-centric web3 universe.
Bello is going to be the glue between all the dapps and provide creators with a logic layer to understand what the heck is going on with consumer behavior throughout the open garden.
Check it out here!
If you're new to The Bigger Picture, welcome! I use the history of tech to explain emerging web3 trends.
Subscribe below so you don't miss any future TBP posts 🥂
---
Table of Contents
Today's Takeaways

Spamming, Shilling, & Scamming: the problems web3 builders face today

Fruit Ninja, Angry Birds, & Temple Run: diving into App Store Connect

The rise of app NFTs: taking a closer look at Launchcaster
---
Today's Takeaways💡
Today, I'm excited to dive deeper into Launchcaster! If you are active on Farcaster, there's probably a 99% chance you've come across it. Launchcaster was co-founded by Jayme Hoffman and Mike Severa. They both were part of YC S21 cohort and have been iterating on products together for almost 6 years! Prior to launchcaster, they were working on Maindrop, an easy way to send NFTs.
At it's core, Launchcaster is a tool to help users share and discover web3 projects.
Launchcaster was first shipped as a simple screenshot concept on Farcaster back in August 2022. In fact, for the first two months, there wasn't even an app.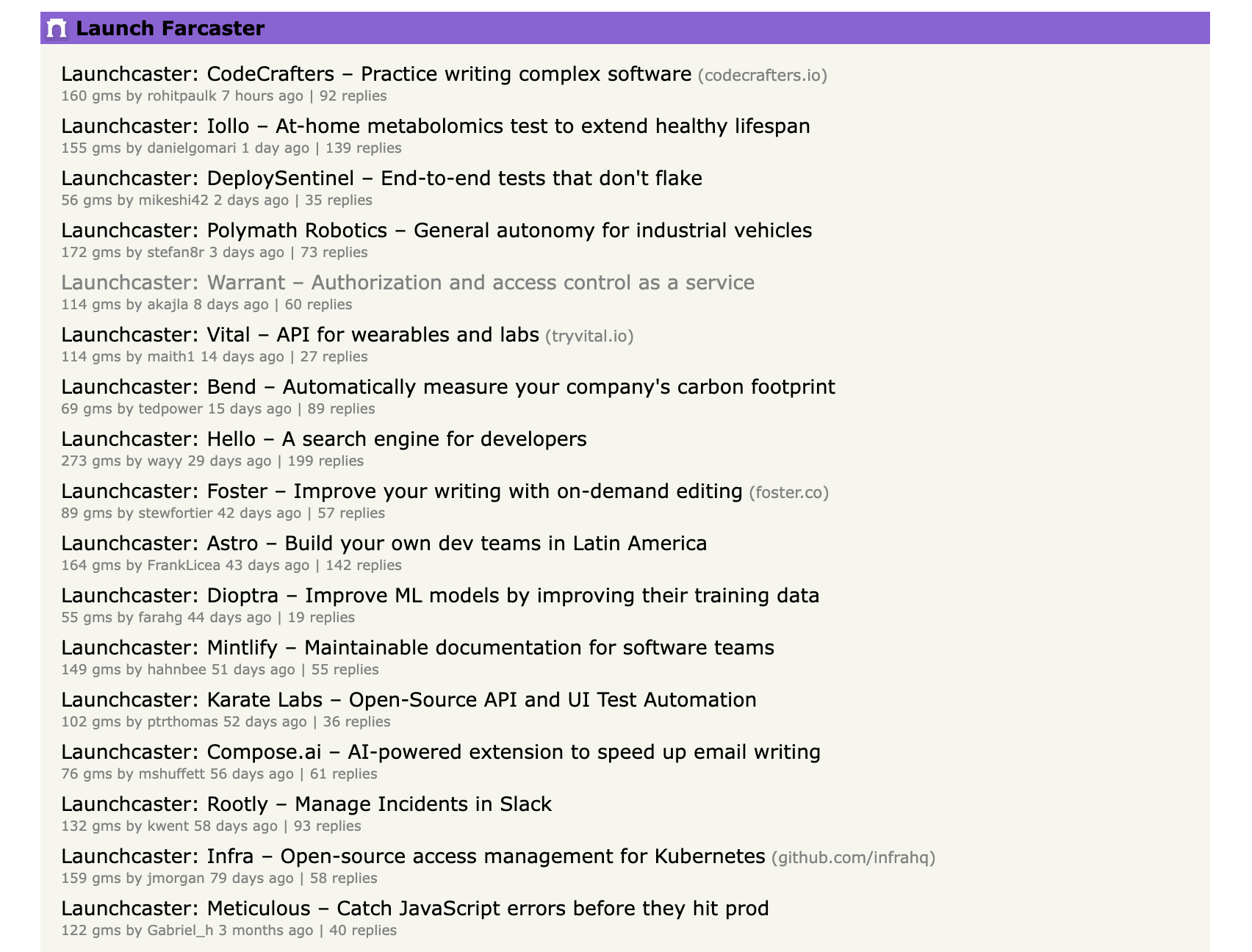 As they gathered rapid interest from their early community, the team got to work and started building the v1 which went public a few months later in October. The vibe was very much a "product hunt for web3". Builders post and enthusiasts vote.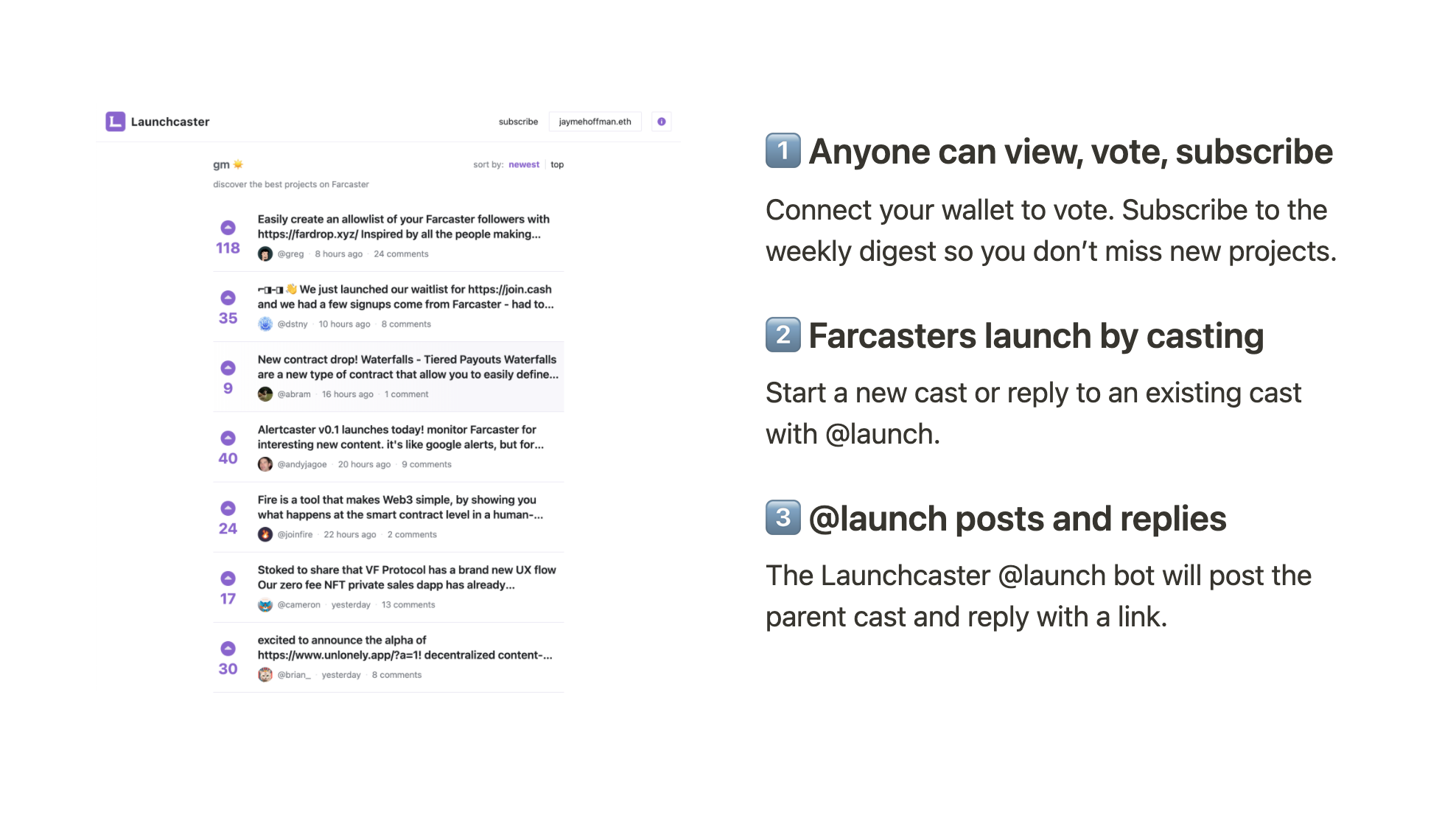 To be honest, this was a product I totally underestimated and misinterpreted at first glance. Though the voting feature has a similar feel to the beloved product hunt, it's clear that Launchcaster is playing a much more critical & immediate role for the crypto community right now than just product discovery.
From experimenting with app NFTs to providing developers a friendly launchpad, Launchcaster is creating waves in the way web3 projects are shared, launched, and iterated. It's much more than a clone of product hunt for web3; rather, it's helping facilitate a whole new developer ecosystem - a place for builders to consistently ship features, try new launch mechanisms, get user feedback, and much more. By providing a space for developers to distribute across all of web3, Launchcaster is taking on the huge task of tackling the fragmentation that is inherent in the decentralized world.
What started as a fun experiment within the Farcaster community is now quickly developing into an essential product for the web3 ecosystem.
Let's dive in 🚀
Two quick notes:
If you want a Farcaster invite, just reply "invite" to this e-mail 🤝

Shoutout to Jayme (co-founder of Launchcaster) for helping me understand the real magic of the product and the road ahead
---
Spamming, Shilling, & Scamming
A complaint I've heard time and time again from early builders in crypto: it's tough to get eyes and feedback on their product.
For the last two decades or so, enthusiastic hackers have been sharing their projects on platforms such as Reddit, Product Hunt, and Hacker News. And this worked great for most people! Folks are kind, people give great feedback, users discover tons of new ideas being built, etc.
However, it's become apparent that these web2 platforms are not ideal for the unique demands and culture of the crypto space. The mainstream tech audience is still rightfully skeptical of what "blockchain" has to offer. And most believe that the entire crux of crypto is based on the idea of selling meaningless tokens and taking advantage of people. The primary user base on these platforms are focused on SaaS, AI, web2 consumer, e-commerce tooling, etc. Web3, with its unique demands and decentralized nature, is often seen as an alien concept that doesn't align with the user behavior and preferences on these platforms. As a result, web3 projects often find themselves either overlooked or misunderstood.
In fact, at times, not only do web3 builders get ignored, but also attacked for posting "dumb" stuff that won't ever take off. Here's a quote from the Kiwi News FAQ:
It's especially true in web3 where Hacker News - once a leading forum for intellectual exchange - has become openly hostile towards crypto. Creators are thus relegated to sharing their content through Discord, Telegram, and various social media channels, praying that by a stroke of luck, someone will notice their work.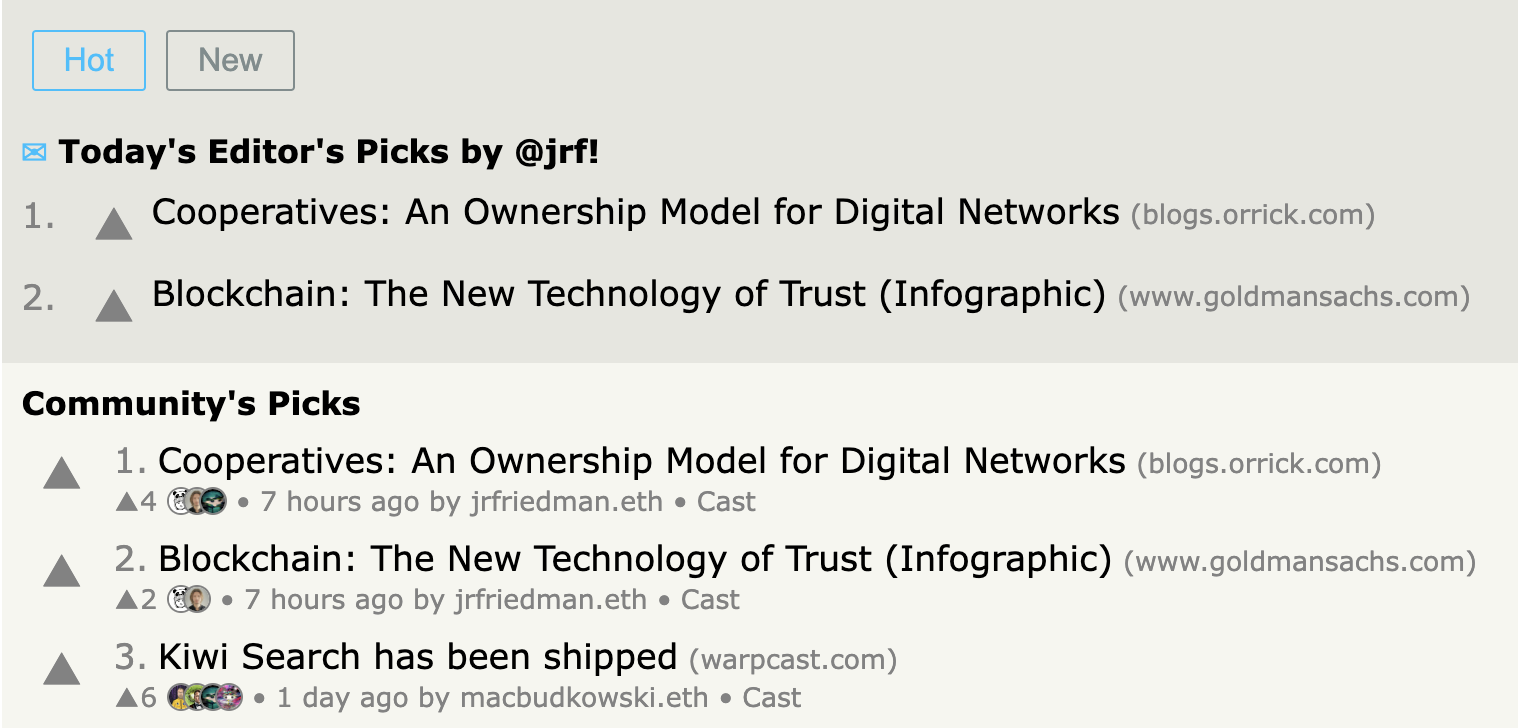 Furthermore, communication in web3 communities has been largely fragmented across platforms like Discord and Telegram. If you've been in the crypto space for even just a few months, you've probably joined countless servers and are past the point of keeping up with your telegram group chats. There's just toooooo many. This fragmentation not only makes it harder for builders to reach their intended audience, but it also means that the quality of feedback is often diluted. Deep, meaningful conversations about product development and improvement are lost in the noise of countless disconnected conversations.
And often, product channels on Discord & Telegram become an endless barrage of spamming, shilling, and scamming.
Though it's not ideal that web3 builders don't have a home yet, this is a challenge that any new developer ecosystem has to face. It's not the first time it's happened and my guess is it won't be the last either.
In 2008, when the iOS app store launched, no one had any idea that only a decade later billions of people would be downloading and using these apps daily. It may be hard to believe today, but there was a time when mobile developers got the cold shoulder from website developers. Back then, web apps ruled the roads; mobile apps were seen as a niche or even a fad.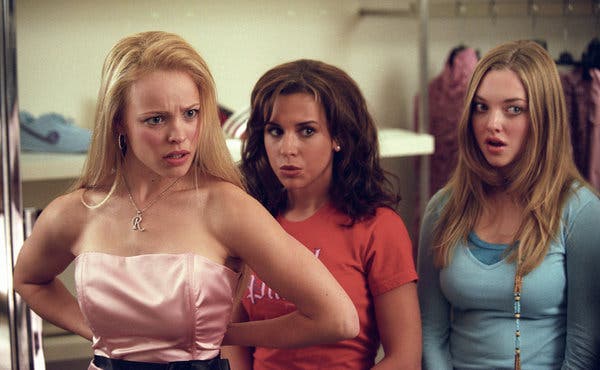 Apple tried their best to cultivate an ecosystem for mobile iOS developers that encouraged them to consistently build, iterate, and launch new ideas into their marketplace.
In the next section, I'll go down memory lane and discuss the rise of App Store Connect and how that changed the game for mobile builders. If we ever want to see decentralized applications (dapps) go mainstream, then the web3 community needs to follow a similar ~decentralized~ playbook.
The challenges above make it crystal clear - the web3 ecosystem needs a welcoming, dedicated platform where builders can share their work, get constructive feedback from a knowledgeable and supportive community, and get visibility among potential users.
---
Fruit Ninja, Angry Birds, & Temple Run
Before I get started on this section, I want to note that this analogy of App Store Connect and Launchcaster only goes a certain distance. At the end of the day, Apple is a centralized corporation and controls it's garden walls with extreme measures. For example, Apple can reject any app that doesn't abide by its strict policies and has a 30% take rate.
The purpose of the analogy is to rather emphasize the parallels in how new kinds of developers need their own home to foster maximum innovation and bring new kinds of application to the mainstream audience.
When the App Store launched in 2008, it came with just 500 apps. Today, 15 years later, there are ~1.8 million apps to choose and download from. Though Apple didn't launch the first mobile app store, they definitely were the ones that brought idea to the masses. It was apparent that now developers didn't have to rely on physical disks or large downloads - software could be delivered directly to a user's device through a digital store.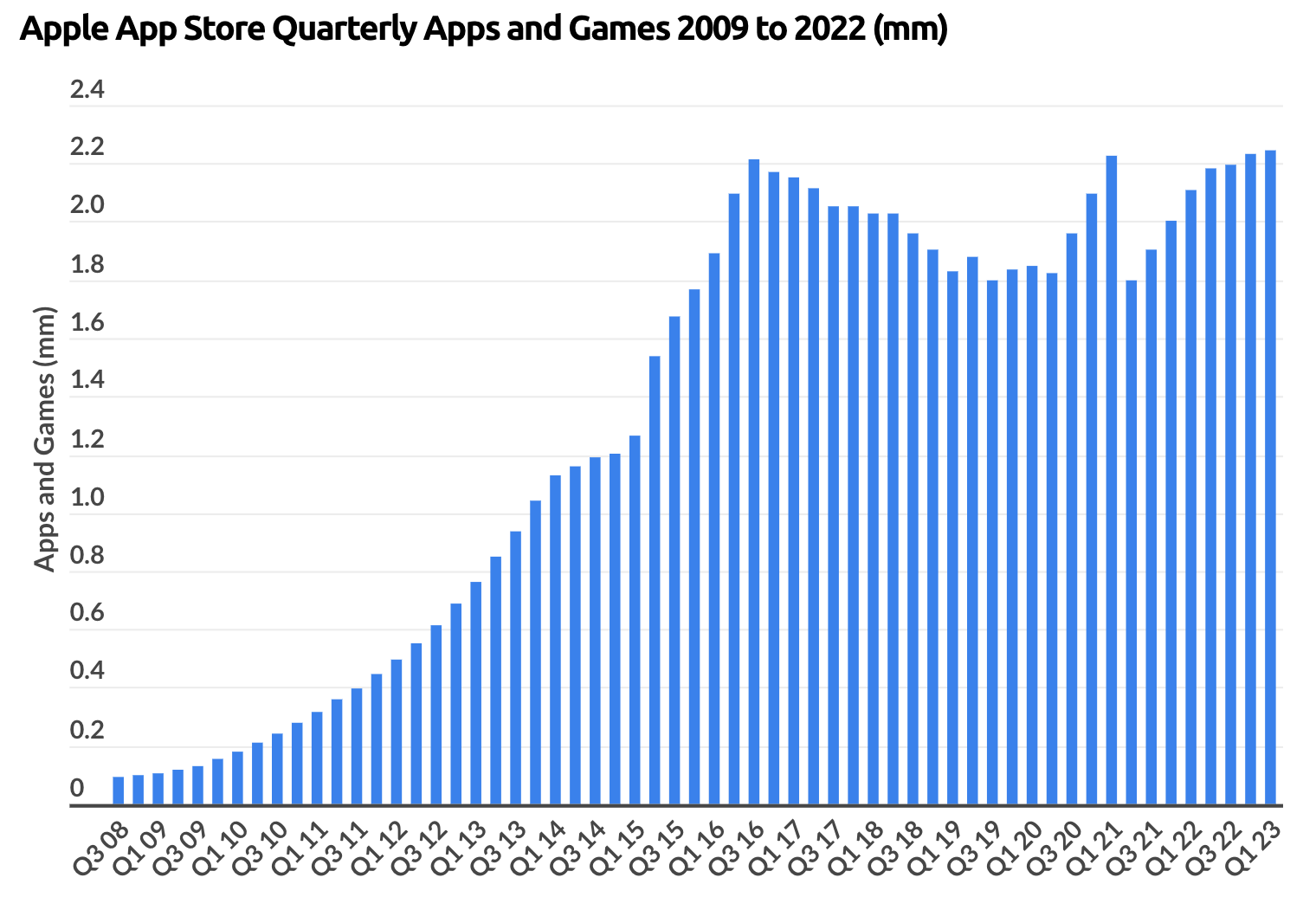 Most of this progress would not have happened without the help of App Store Connect (shortened to ASC for the rest of this article). Initially this product was called iTunes Connect and was later rebranded to ASC in 2018 as Apple made the decision to segment their creator tooling apps for creators (i.e. artists) and developers.
ASC helped solve many of the issues that developers initially had with the app store. It provided a suite of tools and services designed to help developers create, test, and submit apps to the app store. Now it was possible for iOS devs to track their sales, downloads, and even get their product out to early beta users (i.e. TestFlight). Additionally, builders could get user feedback in the form of reviews and continuously improve their products based on quick cycles of usage and testing.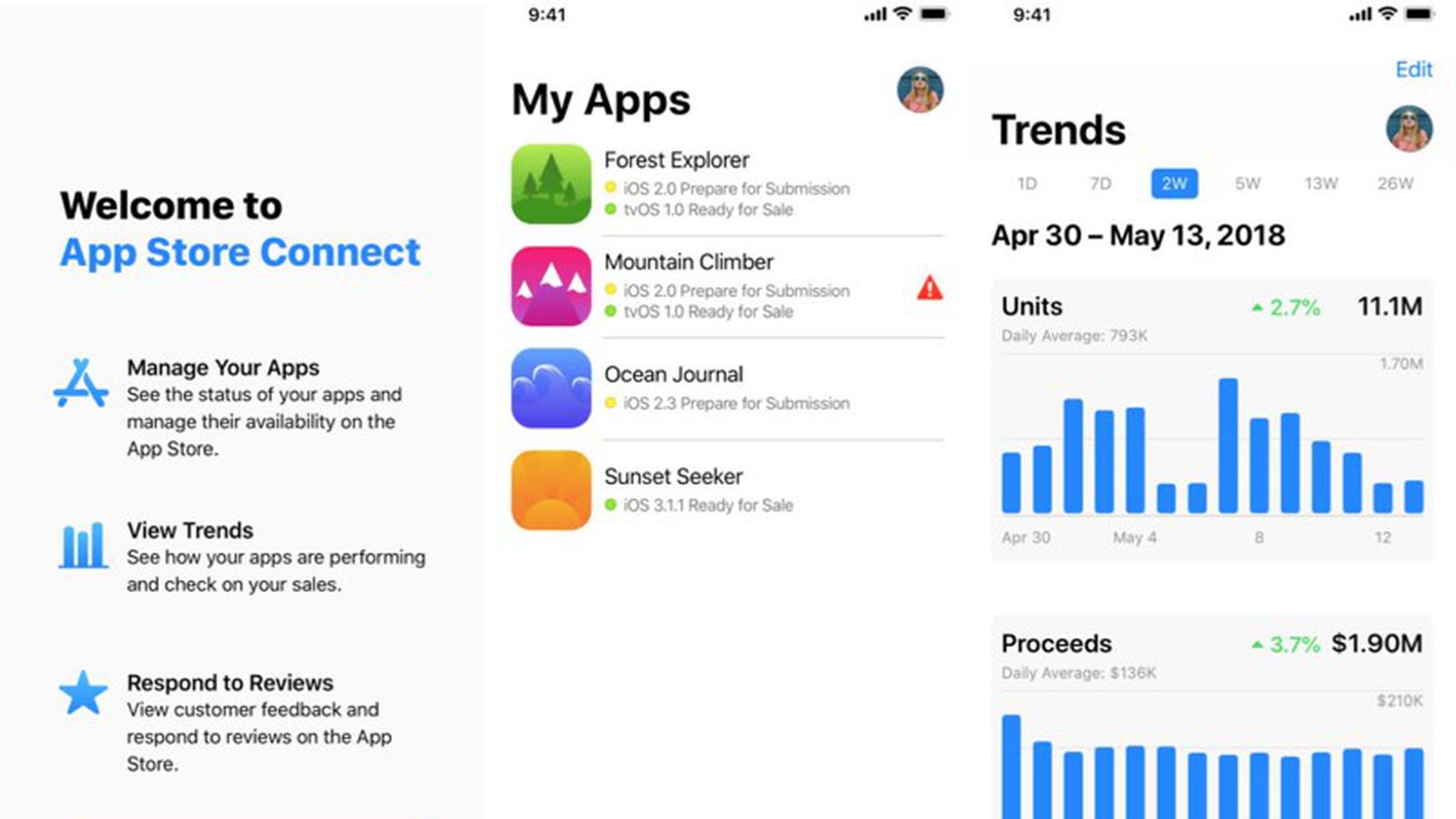 However, what was most impressive about ASC was its ability to legitimize the idea of a mobile dev community. By providing an official set of iOS developer tooling, launching xCode, and promoting an app-based culture at WWDC, Apple was able to foster a community among developers.
It's fair to say that without ASC, there's a good chance we wouldn't have seen such an exponential growth in not only the number of apps, but also the quality of new ideas. The success of the iOS App Store paved the way for other platform-specific stores such as Google Play and the Microsoft Store further solidifying the app store model as an established channel for software distribution.
As we look back on the journey of App Store Connect and its role in shaping the mobile developer ecosystem, we can extract key lessons that apply even in the decentralized world of web3. Just as ASC created an official hub for iOS developers, facilitating product feedback, beta testing, sales tracking, and a sense of community, Launchcaster aims to do the same for web3 builders.
The growth of the app store didn't happen overnight. It required a tailored solution that addressed the needs of its unique user base. In a similar way, the rise of web3 developers demands a product that understands and caters to its unique culture and requirements. And that's what Launchcaster strives to provide.
In the next section, let's dive into the product and check out some of the features.
---
The rise of App NFTs
Before I get into Launchcaster screenshots, I wanted to a useful categorization of NFT apps that Jayme shared with me. Currently, we're seeing 4 kinds of ways this primitive is playing out and this is just the start.
Account NFTs that unlock your account or premium account. (i.e. include Dawn Pass, !fundrop, Event Pass, NFTD, Farcaster)

Feature NFTs unlock a very specific feature. (i.e. rainbow zorb app icon)

Launch NFTs are more commemorative, show proof of early and sometimes unlock benefits

Achievement are unlocked when a user performs a set of actions in a product. They sometimes have benefits and sometimes just commemorative Daylight scout NFTs are a good example of this https://www.launchcaster.xyz/daylight
Why is this relevant?
Because Launchcaster is successfully proving this model out! The team launched Launch Pass as a test to learn the challenges of creating an app/product NFT. There ended up being over 5,000 mints! By minting, users could claim and edit profiles, get a verified badge, see launch metrics, and join the Farcaster token gated channel.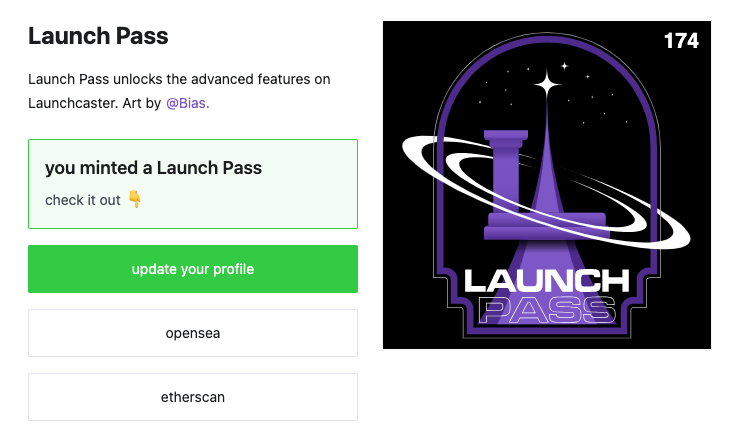 Here's an example of a fantastic product page you can build after you mint. The Airstack team has been consistently adding product updates the last few months and is transparent with what's going on behind the scenes. This has helped the team reach an enthusiastic early user base very quickly.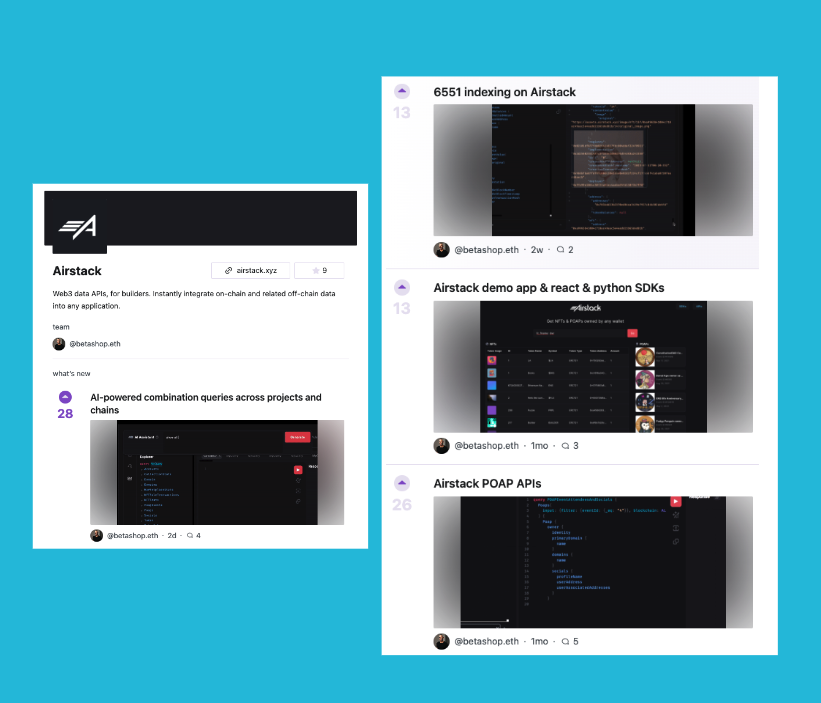 On the home page, you can check out the trending product launches and feature updates. In order to vote, you just have to connect your wallet.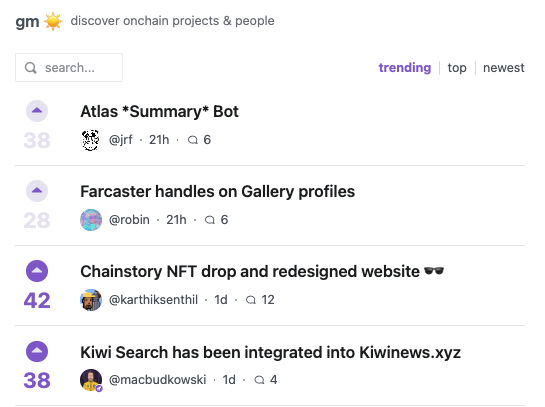 What's awesome about launching is that it's as simple as tagging the "@launch" account on Farcaster and/or Lens and it will automatically make a post for you. In fact, if someone thinks what you posted is note worthy, they can launch for you! Here's Matthew launching "widgetKit" which was posted by Yondon.eth.
Additionally, all comments on the social apps will also get aggregated onto the launch page to facilitate healthy discussion.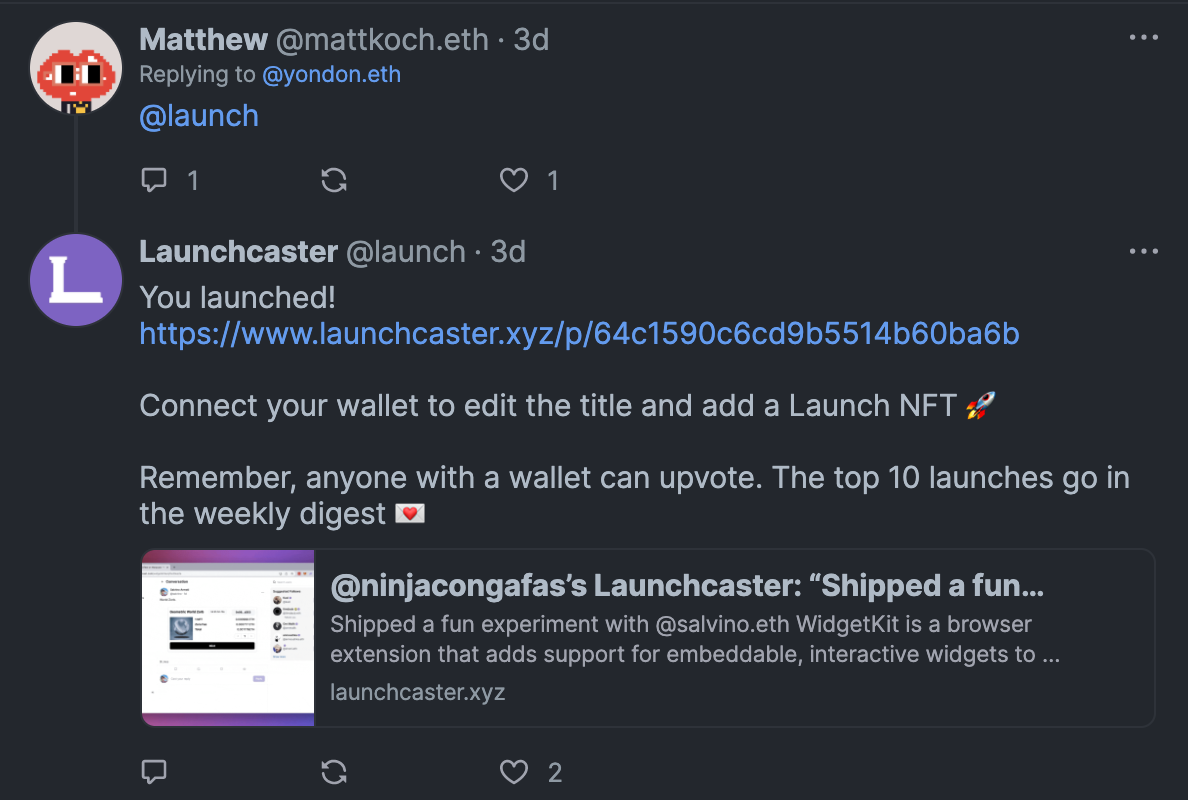 One feature that I loved and feels super "web3" is the "communities" page. You can check out projects that are launched by members of different communities. For example, if you're part of OrangeDAO and do a launch it'll show up with the other projects launched by DAO members.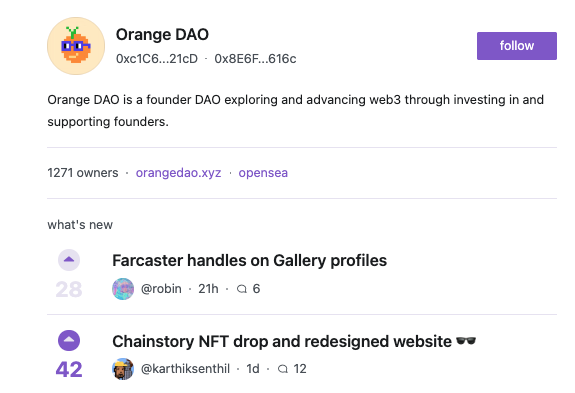 Other features to note:
There's a weekly newsletter with the top launches of that week you can subscribe to

Trending NFTs section

Top launchers

Onchain App Page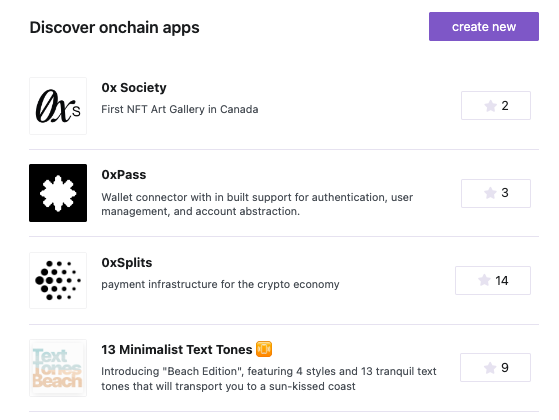 I'm excited to see how Launchcaster plays out in the next few months. Here's a quote from Jayme on what you can expect by the end of this year:
By the end of the year, I'd like to see us roll out this ecosystem explorer we're working on, more discovery tools to make it easier to find products, launches, and builders, go much deeper on product NFTs, and explore some other onchain features. I also want to see us expand to more protocols and more communities so that we can drive more awareness of what launchers are working on.
---
As we start to see the transition into a mainstream web3 era, tools like Launchcaster will be key to bridging the gap between builders and users.
Just as App Store Connect made it fun and efficient to launch iOS apps, I believe Launchcaster will bring an additional flavor of excitement for web3 builders launching dapps. What better time than the deep winters of the bear market to launch a home for crypto native builders? The folks on Launchcaster today are the true hackers - they're excited to see the vision of a decentralized internet playout even when prices are at an all time low.
That's all for today's post - if you enjoyed, I'd love for you to share with your friends :)
Also, if you haven't already, please join The Bigger Picture community by hitting the subscribe button below. You can connect your wallet or add your email!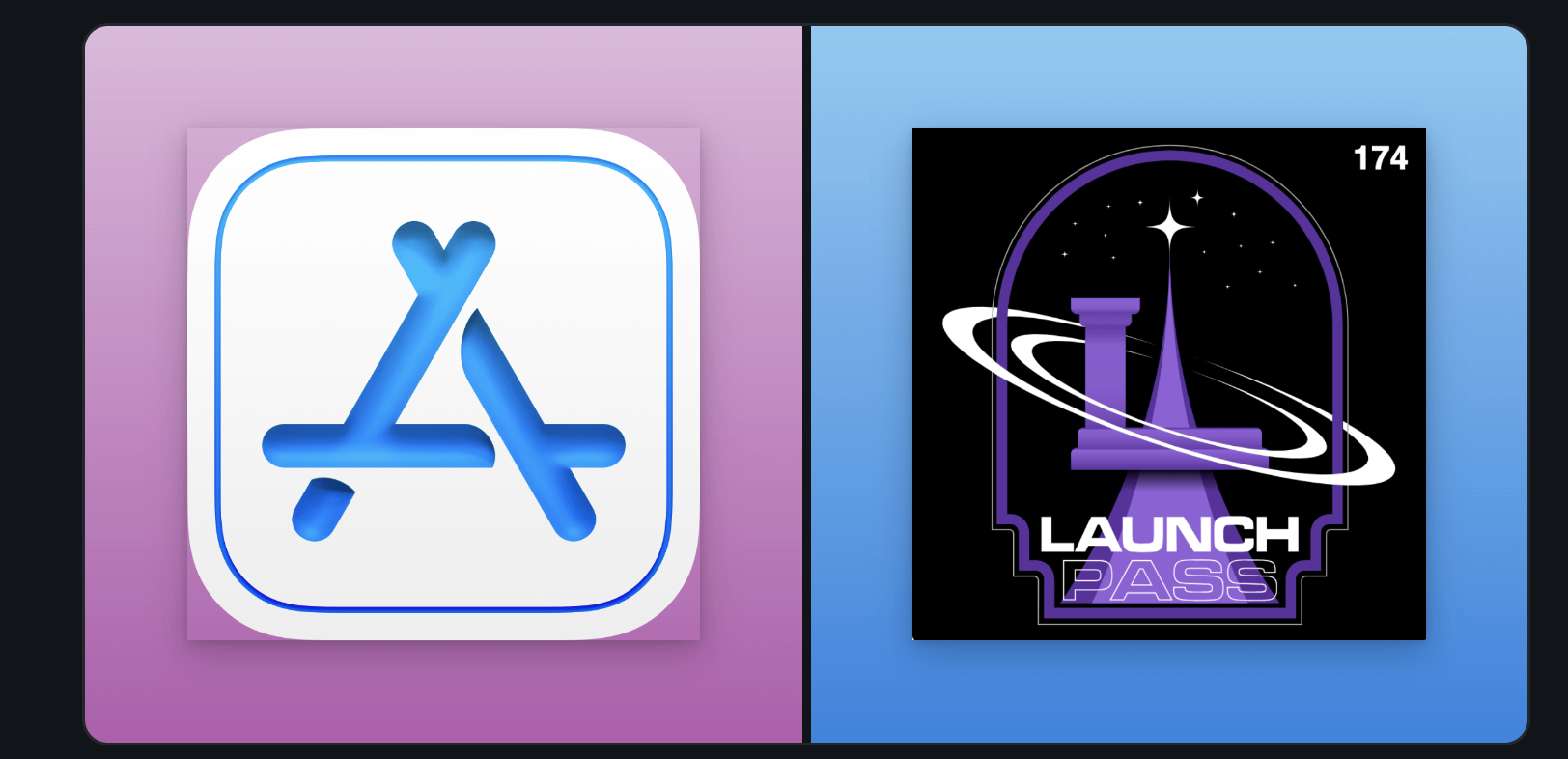 Collect this post to permanently own it.
Subscribe to The Bigger Picture by Yash Bora and never miss a post.