gm creators!
Hope everyone is having a fun Saturday and getting in some sunlight 🔆
Today is day 🔟 of 30 of my writing challenge - finally made it to double digits!!
In case you missed it, yesterday I wrote about the history of the big 3 television broadcast networks (CBS, ABC, NBC). The story is really interesting and honestly gives me Succession vibes.
Did you know NBC and ABC came from the same parent company? And that parent company initially bought the assets from AT&T 😂
Check out the full post here: "Picture yourself competing with the big 3 TV networks"
If you're new to The Bigger Picture (TBP), welcome! Subscribe below so you don't miss any future TBP posts 🥂
---
Unhinged Designs
Today's post is a quick and fun analysis on one of my favorite Twitter follows, Soren Iverson. He recently hit a 100k followers on Twitter and definitely deserves it. The craziest part is that all of his growth has happened just in the last 6 months!
For those of you that are active on tech Twitter, you've definitely come across one of his satirical designs before. They're absolutely hilarious and so freaking creative.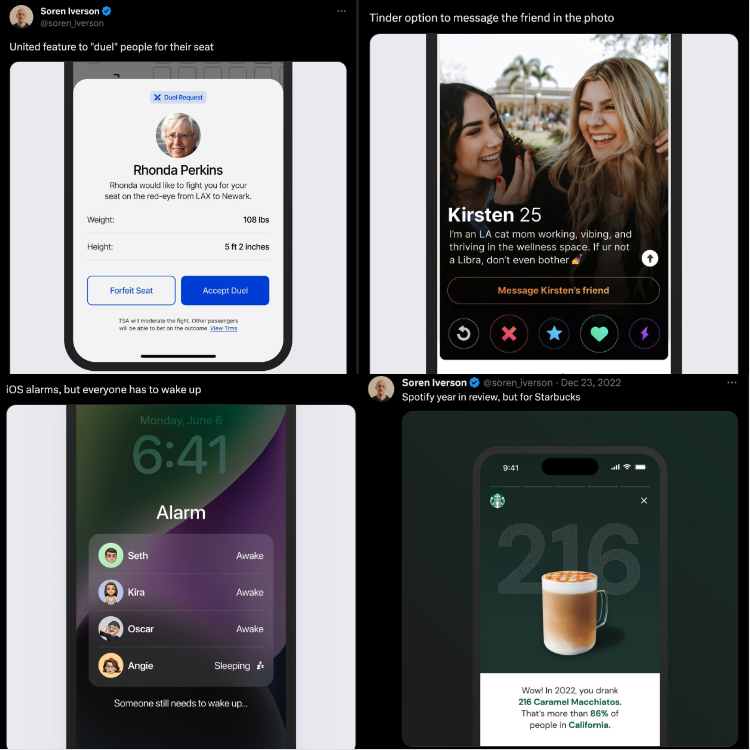 He's gotten shoutouts as a new favorite follow from folks like Packy McCormick and Sriram Krishnan and was recently featured in Business Insider as well. Currently, Soren works as a product designer at Cash App and I believe does design work for startups on the side as well.
---
New Ideas Daily
So how did Soren get started? Back in December 2022, he started posting "Spotify Wrapped" for other products such as Doordash, Google Maps, and Starbucks.
He posed a thought exercise to himself: What would happens if apps implemented the same concept in a way that kind of missed the mark?
And those initial designs started gaining a ton of traction - people were obsessed with the simple, yet interesting ideas. Then after the new year, he started posting design ideas daily starting January 3rd. I remember giving him a follow a few days later and before I knew it, his ideas were spreading like wildfire across Twitter.
People were starting to copy him, quote tweet feedback, write summary threads of his ideas, and everything in between. Another thing that became a hot topic was how quickly his following count was growing. When I first saw his account, he was hovering around ~3k and he was already past 10k the next time I checked about a week after.
After spending more time than I expected browsing through Soren's last 6 months on Twitter, I took some notes as to why I think his ideas worked:
He kept simple one-line captions. Not too much to read and gets the point across quickly

The image is so simple and really resonates. The UI is already familiar since most people have used the apps before. And then there's the slight modification Soren does that stands out.

Super relatable and easy to understand. The model of "feature on x app but in y app" is straightforward. Pretty much the same thing when founders pitch "Uber for x". People also take notice when you merge two ideas together that seems odd at first.

The ideas poke the boundaries of "evil". Nothing bad, but Soren is okay making fun of a certain group of people or company to have some fun. Everyone gets a quick chuckle.

Consistency - he kept posting one idea daily. Some did okay. A lot didn't do so hot. And some went astronomical. But no matter what, he kept on posting a new idea daily.
My key takeaway is that he perfectly embodies the KISS model - keep it simple stupid
---
Expanding the Suite
Another thing that was cool for me to see was his growth as a creator. What started out as just daily tweet ides eventually became a full on business faster than Soren probably expected himself.
He recently opened up subscriptions on Twitter ($2.99 / month)

He has a newsletter to which he posts design commentary daily

Gumroad products such as wallpapers, resume templates, etc.

Some sick merch!

He has a book coming out that you can pre-order
To me, it's clear that once you figure out some sort of content market fit and find your niche, your community really starts to solidify. Everything goes back to Kevin Kelly's 1000 True Fans (this article might be good to deep dive in another post).
With that, I'll leave a quote from the design expert himself, Soren:
Not enough people continue to create after initially experiencing criticism
Keep on creating!
Have a great rest of your weekend :)
Subscribe to The Bigger Picture by Yash Bora and never miss a post.